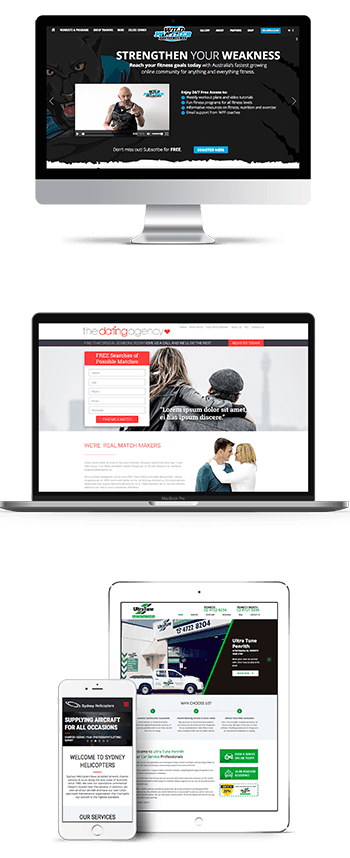 We design websites to stand out.
Your website must set you apart from your competitors. We deliver websites that are attractive, easy to use and will engage your audience. Let us design a website that will leave a lasting impression on potential customers and set your business apart from the rest.


We tailor websites to suit your business.
Your website must be developed to meet the unique needs of your business. We create websites to effectively market your brand online to reach your target audience. We will also build the specific functional requirements to get the results you need!


We build websites that sell!
Your website must be visually appealing but more importantly, it must sell! We design websites to attract new customers, provides a positive user experience, supply the information they are looking for and enable them to easily make an order online.


We build websites to meet your goals!
Your website must be developed with the functions you need to help your business grow. Let us sit down with you to discuss your business goals and determine the functional needs of your website to make them happen.


We focus on the customer journey.
We think carefully about the entire customer journey from the moment your customer enters your website to the point they place an order or make an enquiry. We design the customer experience to be positive and take every opportunity to encourage potential customers to buy from you.
Why Choose Us?
We come to you.
This is an obligation-free visit to help us understand your business and to talk about your online objectives. Let us know what time suits you.
We focus on customer experience.
To succeed, your website must offer the best customer experience. We know what it takes to keep customers coming back to your website.
We have an awesome team!
We are passionate about all things web – we love what we do! Our team is experienced, creative and professional. We think outside of the square.
We make it easy for you.
We take a sensible and practical approach to managing your online presence. We don't muck around and we keep things simple.
We take care of everything!
This means you deal with one company for your website, search engine optimisation, social media marketing, domain names and website hosting.
We are an Australian company.
Don't risk your business with an unknown overseas company. We understand your market and we are subject to Australian legislation.